Bottom weight Master O'reilly won the Caulfield Cup today, but who knows whether he would have beaten the first and second favourites Maldivian and Eskimo Queen which were withdrawn at the barriers under sensational circumstances.
First Maldivian became fractious in the stalls and gashed his neck and then Eskimo Queen reared up, slipped over backwards and became cast under the barriers, thrashing out at the horses either side of her, Master O'reilly and Douro Valley.
Ironically, the pair, both trained by Danny O'Brien, not only escaped unscathed but then went on to quinella the race in the absence of two of the major fancies.
While the race itself was robbed of a lot of interest by the missing favourites, there was nothing wrong with the way that Master O'reilly ($10-$9.50) won the race, with a fast final sectional of 11.61 seconds under his light weight of 50.5kg.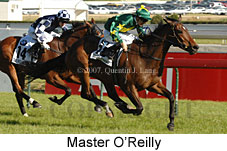 Stablemate Douro Valley ($12) fought on well for second, 2¼ lengths away, while Kelt Stakes winner Princess Coup ($13-$17) ran on well for third.
"Its just a dream come true for me and my stable", said O'Brien.
"We've done a lot of hard work over the last few years to try and get up to these big races and to get both these horses here today to run so well makes me speechless."
"We've won a lot of Group 1's before but obviously this is one of the big majors and something you really want to do as a trainer."
"I really can't believe its happened."
Remarkably both horses came to the O'Brien stable after having been trained by others beforehand. Master O'reilly was previously trained by Judy Mawer for 3 wins from his first 8 starts. She now figures in his ownership after owner Bill Sutcliffe handed over the reins to O'Brien.
Douro Valley was first trained by Colin Little, who raced him 3 times for a third placing and $2000 in prizemoney. Peter Moody then took over the reins and had 20 starts for 5 wins, 2 seconds and 2 thirds for $170,690 in stakes before the horse was transferred to O'Brien.


"They've been great additions and thanks very much to connections for giving us the opportunities with them", O'Brien acknowledged.

"Bill put his faith in us and I'm really pleased that we've been able to reward him and hopefully we can double up for him in a couple of week's time (in the Melbourne Cup)."

O'Brien heaped compliments on winning rider Vlad Duric as well as James Winks who rode Douro Valley.

"I thought both my riders covered themselves in glory."

"They rode fantastic races and know their horse's strengths and they couldn't have done anything different."

Duric, who retained the ride on Master O'reilly after he was transferred to O'Brien, has hitherto been regarded as a good bush rider, but rarely found himself in demand for the top fancies in Group races.
"Sounds bloody awesome!", he exclaimed when introduced to the crowd as the rider of the Caulfield Cup winner.

"Its a dream as you're growing up to win races like this and for whatever reason I never got an opportunity."
"People paint a perception of how you are."
"I've always believed in my ability and I've got myself on some handy horses like Bon Hoffa and this horse."
Duric complimented both trainer and owner for not putting heaps of pressure on him about how to ride Master O'reilly in his races.
"I think the bonus about it is that Danny O'Brien's never put the pressure on me."
"He's always said just ride him as you want to ride him."
"It takes a load off your shoulders when someone tells you that."

"Bill Sutcliffe, the owners been the same. He said just go and do what you do."

Duric had to waste hard to ride Master O'reilly at 4kg below his normal riding weight and after the race he admitted that the effort had taken its toll.

"I'm really hurting now but the adrenalin's keeping me going."

"My wife never comes to the races and she's here today so she'd be bloody rapt and Mum and Dad are over there", he said pointing to the crowd.

Duric will not be out on the the town celebrating tonight, preferring to be with those closest to him.


"I'll be recuperating", he said.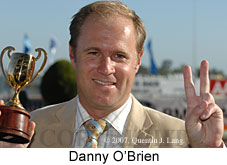 "I've got some people coming around home and I'll have a quiet night tonight.

"Like I said I'm hurting and I'm not a party animal."
"I'm 30 with 3 kids so we'll go home and celebrate with the family."
O'Brien is now looking forward to the Melbourne Cup, for which Master O'reilly is $5.00 favourite with bookmaker Eskander's Betstar.
"Its the best form race for the Melbourne Cup and you couldn't get a better trial than that", he said.

Duric agreed, saying "I said 12 months ago he'd win the Melbourne Cup and I still think he can you know."
Maldivian's injury required 10 stitches and will probably put him out of action for the rest of the Spring. Eskimo Queen has only minor cuts and abrasions, but it will take a day or so to see if there is any long lasting result of her altercation with the barriers.
Even in victory, O'Brien's thoughts were with fellow Flemington trainers Mark Kavanagh and Mike Moroney, whose chances of winning the Cup were so cruelly ruined.
"No one wants to see anything like that happen", he said.
"Everyone realises how hard it is to get there on the day and to see it fall apart in the last minute is really soul destroying."
Photos: Quentin Lang
© 2020 Published 20/10/07